Coaches of all kinds – whether you're a business, intuitive or relationship coach, you can gain additional authority and credibility in your field, plus more followers and potential leads. It's effective for SEO (search engine optimization) as part of your overall strategy.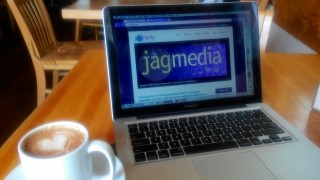 All that being said, blogging can still be challenging to get the words on a page. I get it – completely! As for myself, I had been planning my recent wedding this year, which made it a gargantuan challenge to find time for writing blog posts.
The good news is that posts can be short – they don't need to be an essay… Three hundred to five hundred words is a range worthy of being detected by Google and other search engines.  Here's three tips to help get you started on the path of blogging on a more consistent basis.
3 Tips for Easier Blogging:
 Use Speech to Text: it's easier to do speech to text on phones these days, however there are apps that do that. Mac has a built in option for it: open the Text application, go to the Edit menu, then scroll down to Speech and click Start Speaking. It works ok and is in other Mac apps too. Copy n paste your text into your blog post.
Hire a Blogger/Writer: if you don't have the time or writing isn't your thing, there are many good options for hiring a writer aka Content Creator on a contract basis. Look for writing samples in addition to relevance in your area of expertise.
Use Existing Material: use excerpts from recent seminars and programs you've led, articles you've written and from your books. Make sure to link to the sales page if you have a book or your articles that you refer to online.
I'll share a link to my influential Venice Beach blog, Abbot Kinney First Fridays,  for inspiration and fresh insights on blogging content! Pay close attention, as it's consistently ranked Page 1 Google for 7+ years!
Jagmedia: painting the digital landscape offers content creation, search engine optimization, branding and design services.
Need a Blogging Boost?
Contact Janet at Jagmedia