Creative Design Studio
JAGmedia is a Visual Design studio, specializing in Websites, Branding and Graphic Design. I'm Janet A. Gervers, Creative Director and Founder of my Santa Monica Design Studio, started in 2001.
I'm a Digital Branding Specialist, offering Design and Strategic Guidance for my Clients, primarily business owners who realize their time is precious and value a trusted and seasoned professional to take care of it for them who is:
Talent: Website Design, Graphic Design & Branding
Experience: 25 Years Serving Business Owners
Guidance: What works and what doesn't
Commitment & Genuine Care: for You & Your Business
Quality: All aspects of Service & Products
Honesty & Integrity: Woven in the Fabric of JAGmedia
Learn how the Website of Your Dreams can be Yours!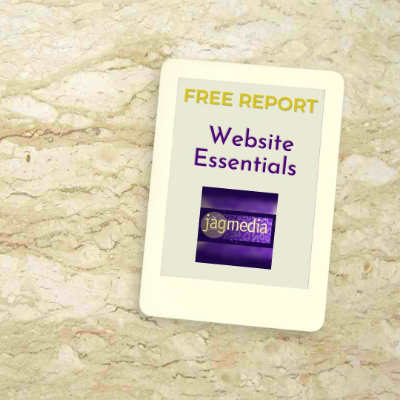 Free Report: Website Essentials
Subscibe & Download
Whether it's a brand makeover or creating  your new brand, JAGmedia's unparalleled talent and experience elevates your brand and shines the spotlight on your company with a consitent look across all channels. Ready for your brand to be recognized?
The Website of Your Dreams is just a step away, with the expertise, creativity and guidance that I offer at JAGmedia, with 25 years in the industry creating hundreds of websites. Want the Website of your Dreams? What are you waiting for?
I've setup hundreds of client with ALL their website hosting related needs and I offer the tech relief needed and the optimal setup. Options for Hosting, Domain Names, Website Builder, SSL, all the essentials and more from an expert.
 What Clients are Saying About JAGmedia:
Life Coaches, Business Coaches, Speakers and Authors are professionals that have benefited from JAGmedia's Creative Services – and I've worked with many over the years. Offering a full spectrum of creative from  websites to logos, social media graphics and print 
design. Design Coaching for the Coaches.
JAGmedia offers website design and digital graphics for Professional Organizers. Need your entire Brand developed from online to print with an integrated approach? That's where JAGmedia comes in!  Perhaps it's a new website reflecting a shift in your business or social media graphics for a more recognizable brand. Let's discuss your goals and vision and make it a reality.