COVID-19 RELIEF for Websites: All in One Website Package from JAGmedia
If you need a website during the "new normal" I have options for you. This Website Builder from my Web Hosting portal is one that I put to the test first, to make sure it's a beneficial solution for YOU!

When it comes to website design, my clients want and deserve the best, however affordability is key, which is why I offer a budget website option, for a beautiful, mobile responsive website that's easy to edit and a great value!
While my flagship website package, Website of Your Dreams is created using WordPress and has a higher level of investment, my All in One Website Package is designed for affordability.
The great thing  about it in addition to the affordability factor is that your new website will look amazing and give your business the professional edge and credibility it deserves.
I will create your website, taking advantage of  a suite of designs created for your industry and customize them to reflect your one-of-a-kind idea. This website option is quick to ramp up, so if you're in a hurry, check this one out.
What are some of the features of this website package?
Responsive mobile design

Rapid Page-Load performance

Create a blog

Appointment Scheduler

Connect to your Paypal to Sell

24/7 support (included with hosting)

Security Certificate Included (SSL typically an extra fee)
All of these useful and amazing features are available through my web hosting portal. One of the great things about it is that you can start your own account on demand for free and add products as you need them and call me for a consultation. I will recommend only what you need without any extra fluff.  I'm here to help you grow your business and I understand the challenges of running your own business, since I'm a business owner.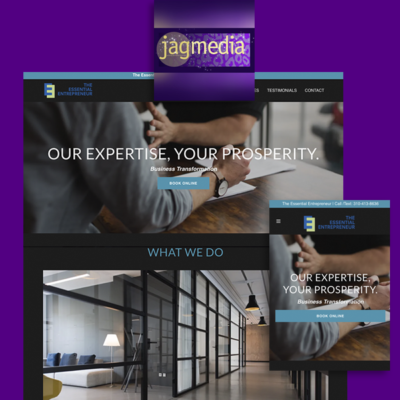 When I create your website there's a flat fee for creating it plus there's the website hosting fee (monthly or annual options) which includes the builder for an additional fee (yes low price!) It's quick to ramp up, offers stock images if you don't have your own and helpful suggestions for text, among many other great features.
If you're a DIY'er and confident of your computer skills, you can put it together yourself if you like, however, if you go that route, you won't get my website coaching.  What's website coaching? I'm guiding my clients through the whole process when I'm creating their website, so they know what the website looks like while it's being built, recommendations as to what content is strategic and where to place it, plus answering your questions.
Want Me to Create Your Website?
Start with a Personalized Consult –
fill in your details below: