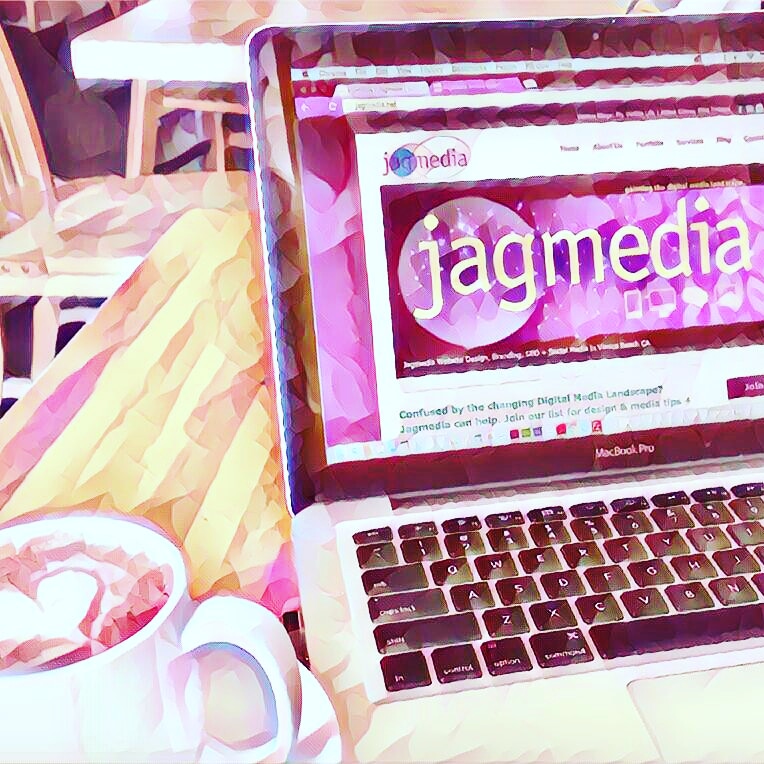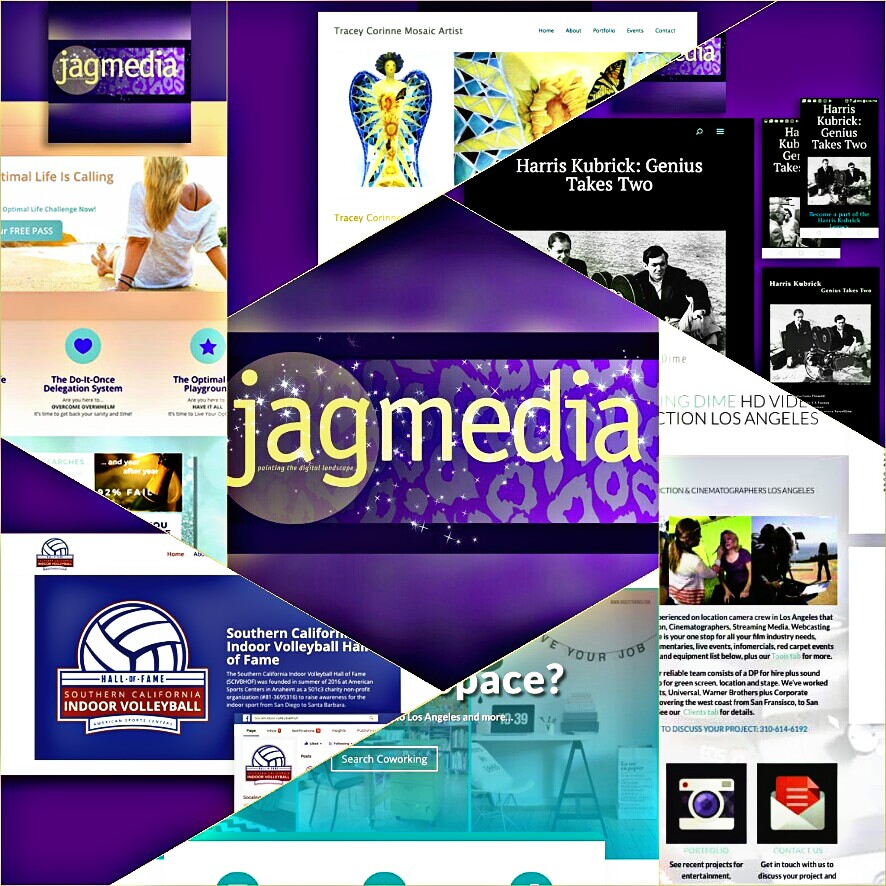 Full Service Design & Digital Services
Jagmedia is a creative design studio in Santa Monica, CA that loves working with business owners to achieve their Design and Branding Goals.
Offering a Full Spectrum of Design Services:
Website Design, Digital Graphics, Social Media Graphics, Logos and Print Communications.
Graphic Design

Branding / Identity

Social Media Graphics

Custom Email Newsletter

Virtual Tutorials / Online Learning

Coaching: Web & Brand

Search Engine Optimization 

Website Hosting Including Website Builder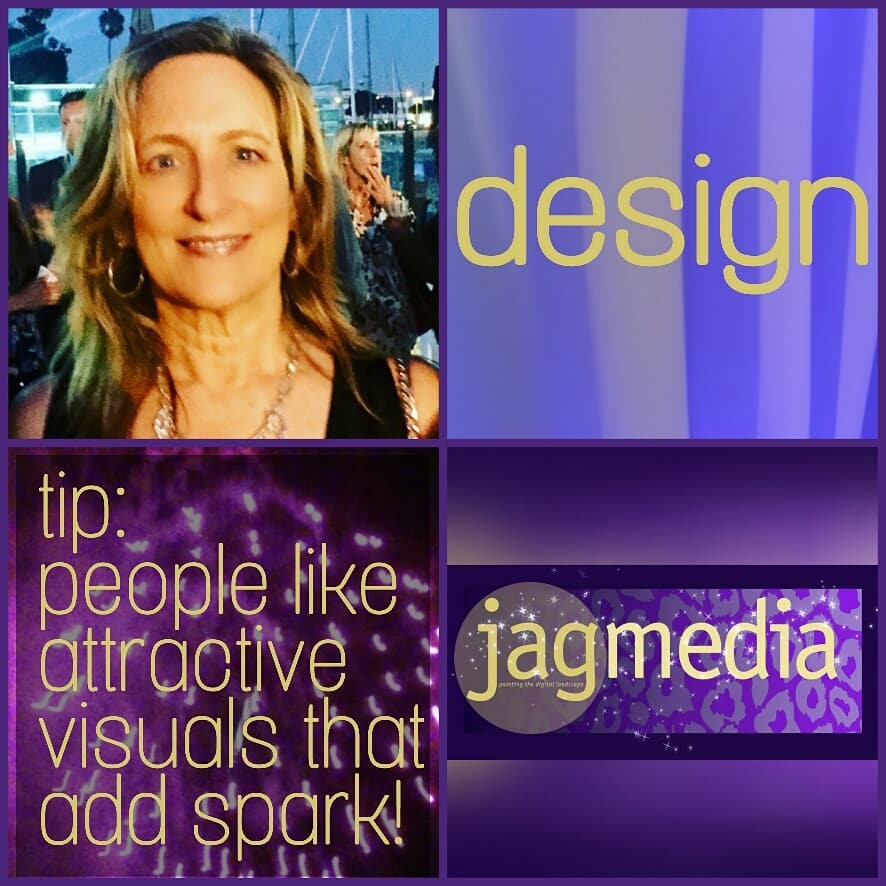 JAGmedia Profile
Get in touch and learn more about how I can help
Elevate Your Brand
when you Click the Button Below.
Work with someone you know and trust:
When it comes to design and branding, you know that you're getting the real deal- that's – Janet Gervers, Owner and Creative Director of JAGmedia.  Schedule a meeting at my office, arrange a Zoom meeting or call. Projects are created in the USA, without outsourcing in foreign countries.
Design Studio Profile:
JAGmedia is a creative design studio that started in Venice in 2001, by Janet A Gervers and is currently located  near the ocean in Santa Monica, CA.
Web Hosting Services:
Website Hosting related services can be confusing for most people. JAGmedia will give you the relief from tech overwhelm!
Website Hosting,  Domain Names,  Security, Website Builder, and WordPress flavored hosting. Month by Monthor annual options for web hosting and a web builder for a professional looking, easy to edit, affordable website! It's mobile  and SEO friendly!
10% Off with purchase $100
PromoCode: Jag10
Beautify Your Environment with Art by Janet Gervers.
Original Paintings
& Photography
Bringing your space to life with original artwork.
Stage your property on the market and set it apart with original art.
 Use my established blog for promoting your business or use our content writing services.
Abbot Kinney First Fridays is my influential Los Angeles blog attracting a millennial audience. Offering options for brand & event promotion on an established media platform! Inclusion in our most popular blog post plus dedicated posts and social media are marketing options.
What Clients are Saying About JAGmedia: Professional Organizer
Janet recently re-did our website (https://www.organizetoexcel.com) that was more than 6 years old and showing it! Her design is clean, sleek, and fresh. She was responsive, thorough and helped push the project to completion quickly.
Katherine Macey, Organize to Excel
Professional Organizer
Los Angeles, CA
What Clients are Saying About JAGmedia: Business Coach & Author
Janet's work on my website has been superb! She not only listens closely to what I ask her to do, but also makes creative recommendations on how the design and application can be better optimized, which has been hugely helpful. I'm getting great feedback on the look, feel and messaging of my site with the new changes. Talk with Janet if you're wanting a positive, collaborative design experience.
Laurie Hacking, Step Into More
Business Coach & Author
Los Angeles, CA
What Clients are Saying About JAGmedia: Chiropractor
What can I say about Janet and Jagmedia? Jagmedia took a nearly dead website with minimal online presence and brought it into the 21st century. Together, myself and Jagmedia co-created a website that has life. People visit, schedule appointments, talk to our doctors thru it, watch videos, are educated… the online store is next.
Jagmedia went the extra mile staying connected thru the process, was available and open to comments, tweaked what was needed and guided us thru from concept to creation to presence.
I just cannot say enough about Jagmedia, except thank you for being you!
Yes I highly recommend Jagmedia.
Dr. Jeffrey Ptak
Doctor of Chiropractic, Ptak Family Chiropractic
Santa Monica, CA
What Clients are Saying About JAGmedia: Musician & Song Writer
I was looking to have a website where I can tell a story of my music journey.
Janet crafted exactly what I was looking for. A website that presents to my followers my music and my roots She works with me step by step in building my website to my needs. Most of all great job and affordable price. Janet made herself available every time I had a question, She is very professional, and get the job done on time.
I am very impressed how quickly she completed the project.
Janet, thank you for your recommendations and for your professionalism.
Francis Ndoumbe
Songwriter, Producer, Singer
Santa Monica, CA

© 2020 Jagmedia Custom Website Design Santa Monica, Venice,  Culver City and
Los Angeles, CA. All projects created onsite.